Towards a Dynamic Spectrum Marketplace
Feb. 18, 2022 – During the next MWC 2022 Barcelona (from 28 Feb to 3 March) representatives of the 5GZORRO Consortium and relevant speakers will be present at the Mobile World Capital Area to discuss their vision and plans for building innovative solutions to address the quest Towards a Dynamic Spectrum Marketplace.
During MWC2022, we will keep informing about our innovative approach to:
Share and discover heterogeneous types of resources, in particular spectrum, virtualized radio access, virtualized edge/core, software defined WAN across multiple operators and infrastructures.

Multi-party agreements to build distributed and pervasive 5G infrastructures, from data centers down to edge and far edge computing.

Full automation of network and service management (zero-touch network and service management).

Coexistence of Cloud-native and traditional IaaS network functions (containers, service meshes, microservices).

Distributed Ledger Technologies for spectrum sharing and cross-operator/cross-domain service chains.
5G has demonstrated to be one of the main catalysts of the pervasive digitalization of our society: ultra-high bandwidth, low latency, increased density, and continuity of connectivity for various Vertical industries (Media, eHealth, Smart Cities, Digital Factories, etc.). The step forward is to achieve intelligent connectivity and to implement it without limits.
Thus, future multi-stakeholder communication networks will place unprecedented demands on wireless connectivity's most valuable and scarce resource, the radio spectrum. It also introduces further complexity in the connectivity value chain with the role of intermediaries who, along with traditional network operators, repackage and customize connectivity to the needs of economic and industrial sectors or verticals.
In the pursuit of an optimal balancing act between spectrum efficiency and effective use, collaboration in research and development projects which explore innovative and dynamic spectrum solutions, including those enabled by artificial intelligence and blockchain technologies is necessary.
After the 2 years-stop for the pandemic, 5GZORRO is pleased to have this opportunity to present the latest results and outcomes on the ambitious goal stated at the initial stage, to define solutions for the 5G evolution in longer terms. Research & Innovation is essential to realize this roadmap for 5G. Zero-touch automation, security and trust among multiple parties through blockchains, network slicing across ubiquitous computing and connectivity are key aspects of investigation.
During this unique international event, we aim to show more about the 5GZORRO innovative platform and speak with the experts about the incredible opportunities offered by our proposals.
For this reason, 5GZORRO is planning several interesting activities for MWC2022 in Barcelona, next Feb 28th until March 3rd:
28 Feb – 3 March – Daily Pills:

3 Interviews with 5GZORRO partners to explain mayor outcomes and achievements:
Antoine Sciberras – MCA on: DLT-based Spectrum Market for real-time spectrum allocation among diverse business agents.
Esther Garrido – ATOS on: Validation and Business Modelling.
Gregorio Martinez Perez – Universidad de Murcia on: Zero-touch automation, Security and Trust Orchestration.
Animated Video a new production to explain the innovative 5GZORRO Platform.
           Interviews and video will be streamed on project's website www.5gzorro.eu and socials.
1/3/22 17:00 – 18:00 CET, MWC22 @ Mobile World Capital Stand 4G100 – Hall 4
> 5GZORRO Tech Talk#3: The Future of multi-stakeholder 5G networks: Towards a Dynamic Spectrum Marketplace.
This Tech Talk will briefly explore developments on the use of innovative technologies that facilitate access, and in some cases, such as in the 5GZORRO project, enable a marketplace where 5G-related resources, including spectrum, can be traded securely amongst diverse stakeholders, based on market-driven business models to meet dynamic supply and demand.
Important guests' speakers will join us on stage and remotely to discuss this topic:
Raymond Forbes – ETSI PDL, for Huawei Technologies leads and chairs the ETSI ISG ENI (Experiential Networked Intelligence) and ETSI ISG PDL (Permissioned Distributed Ledger) Vice-Chairman.
José Antonio Aranda – Cellnex Telecom Sau Product Strategy and Innovation Director.
Shahar Steiff – Horizon-3 at PCCW GLOBAL Limited AVP New Technology.
Antoine Sciberras – Malta Communication Authority, project's partner will moderate this panel on Spectrum sharing, the regulators' view, and the 5GZORRO approach.
A project presentation on latest outcomes and development will be held by: 
Esther Garrido – ATOS Research & Innovation Business development and exploitation activities for H2020 EU-funded projects. 5GZORRO partner.
Shuaib Siddiqui – i2CAT Senior Researcher / Software Networks Area Manager. 5GZORRO project coordinator. 
Join the conversation in the Q&A section!
Streamed LIVE also on www.5gzorro.eu , YouTube, and socials.
Attending MWC2022 – SAVE the DATES!
 5GZORRO project has the goal of developing envisaged solutions for zero-touch service, network and security management in multi-stakeholder environments (ubiquitous), making use of Smart Contracts based on Distributed Ledger Technology to implement required business agility.
The 5GZORRO consortium is formed by 13 partners from 7 European countries and funded by the European Commission under the 5G PPP Phase 3, Part 4: 5G Long Term Evolution  programme.
More info: www.5gzorro.eu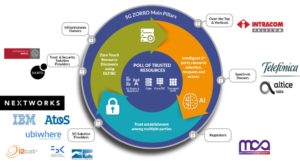 Follow us in:
Twitter: @5Gzorro
LinkedIn: 5GZORRO
Contacts:
Shuaib Siddiqui
+34 638 687 554
Carla Bressan
+34 606 516 106