Authors: Ana María Morales and Fernando Diaz, ATOS
Current 5G Management and Orchestration (MANO) platforms cannot realize the full set of benefits 5G could provide. Existing architectures and solutions do not meet the needs of multi-domain scenarios and heterogeneous ecosystems for support compute, storage, network and spectrum resources from multiple operators while introducing intelligent automation mechanisms to deal with the complexity of network operations and the increasing number of resources to be managed in network virtualisation environments.
In addition, the near future of 5G networks envisions diverse providers across different geographical areas that could collaborate by sharing, leasing, and using heterogeneous sets of resources to provide true on-demand integration of ubiquitous resources in terms of computing, network, and storage transparently through multiple technological and administrative domains.
To tackle these challenges and unleash the benefits of 5G networks, 5GZORRO is developing a zero-touch orchestration platform integrating Artificial Intelligence (AI) to govern the complexity of automation through the identification of usage patterns and cognition into operational data lakes, united with distributed ledger technologies to implement a scalable and secure solution for the interworking and accountability of different actors involved.
But do you know how will 5GZORRO ensures that the architecture, services, and tools developed within the project effectively meet the expectations and needs of potential end-users?
Do not miss this Blog Post series, intended for you to learn the details and motivation of the three use cases that have been defined to validate 5GZORRO results:
 It covers mechanisms for the implementation of DLT-anchored Smart Contracts and Oracles with the objective of enabling decentralized trust for multi-party interactions and SLA management.
It envisions Blockchain-enabled spectrum markets, where shared spectrum right holders can trade and lease spectrum rights for a given area and time, enhancing spectrum efficiency while maintaining the QoS at the required level.
Pervasive virtual Content Distribution Network Services (vCDN)
It covers the capacity for delivering scalable, pervasive vCDN services including HQ video streaming (live and/or VoD), in situations with significant variations in the context of flash crowd scenarios e.g., video sharing in stadiums or demonstrations, or sharing breaking news live feed, based on the concepts described in previous use cases.
---
5GZORRO Use Case 3: Pervasive Virtual Content Distribution Network (vCDN) Services
Based on the concepts, technologies and solutions of the other 5GZORRO Use Cases, this scenario it is demonstrated the capacity for delivering scalable, pervasive vCDN services including HQ live or on-demand video streaming in situations with significant variations in the context of flash crowd scenarios such as stadiums or demonstrations.
Content Delivery Networks (CDNs) are geographically distributed networks of computation and storage resources used to offer high-availability and high-performance services such as web content, application data, live or on-demand streaming media. The latter poses particular requirements in terms of viewing quality, considering also users' mobility from both network and content perspectives which brings challenges related to serving bandwidth, delay/jitter, streaming servers' resources, content availability, among others.
Furthermore, variable content requests in space and time represent an extra challenge for the overall quality of offered services in the case of the CDN resources at situations like sports or music events where the viewing or video streaming content can increase dramatically in a specific location during a certain period of time, exceeding the average consumption expected.
The dynamic reallocation of available resources in the specific geographic area experimenting with the high demand might be a plausible solution. Nevertheless, this option is not always possible, and it becomes a most difficult situation in the case of Over-The-Top (OTT) services providers who rent resources from Communication Service Providers (CSPs) to serve their clients.
To effectively addressed those challenges, CSPs should avoid relying only on their own resources by having the capabilities and tools to dynamically create secure and trusting agreements with third-party resource providers, even when a previous relationship hasn't been established. By doing so, they would be able to enhance their own CDN services and the quality of services provided to CDN/OTT providers.
For this Use Case, 5GZORRO brings various innovative features to tackle the different challenges presented in these scenarios, hence, allowing CSPs and OTTs to provide high-quality content and services to their consumers at any time and at any location without worrying about unexpected demand. Moreover, this can be considered as the all-encompassing use case demonstrating all the novelties and features developed within 5GZORRO, such as:
Zero-touch resource discovery:

 All infrastructure owners, including 5G and Edge/Cloud operators, can advertise their resources (compute, storage and network) to the underlying DLT, based on the innovations introduced by UC1. The decentralised 5GZORRO catalogue, which is based on DLT, will be responsible for maintaining up to date records of available resources. The introduction of a resource and each subsequent state change in its lifecycle will be managed by a smart contract. Moreover, the resource requests will be also communicated to the DLT infrastructure reports from Domain Monitoring & Analytics components into discoverable resources by translating the availability and demand.

3rd-party resource selection and request: Based on the Intelligent 3rd party Virtual Resource Selection 5GZORRO service, historical information linking previous choices will be available to select the most appropriate required 3rd party resources from the ones available, considering various KPIs such as service migration time, service downtime, among others.
Security and trust establishment among multi-parties: Achieved by allowing the establishment of Smart Contracts Management and Secure SLA Monitoring services on the business layer.
Network slice adaptation and service instantiation: Streaming servers for video delivery based on HLS and/or MPEG-DASH protocols and content storage components will be virtualized and offered as VNFs and their performance will be exposed to the 5GZORRO operational Data Lake. Moreover, mechanisms for fast deployment and integration of new VNFs will be used to allow a smooth extension of the CDN network providing proper APIs to interact with the Management and Orchestration (MANO) platform of the underlying 5G infrastructure.
VNF licensing: 5GZORRO eLicensing functionality will provide the ability to keep the trace of the resource usage independently of the deployment premises owner, providing the ability to manage the licenses in the slice extension cases in a fully automated way.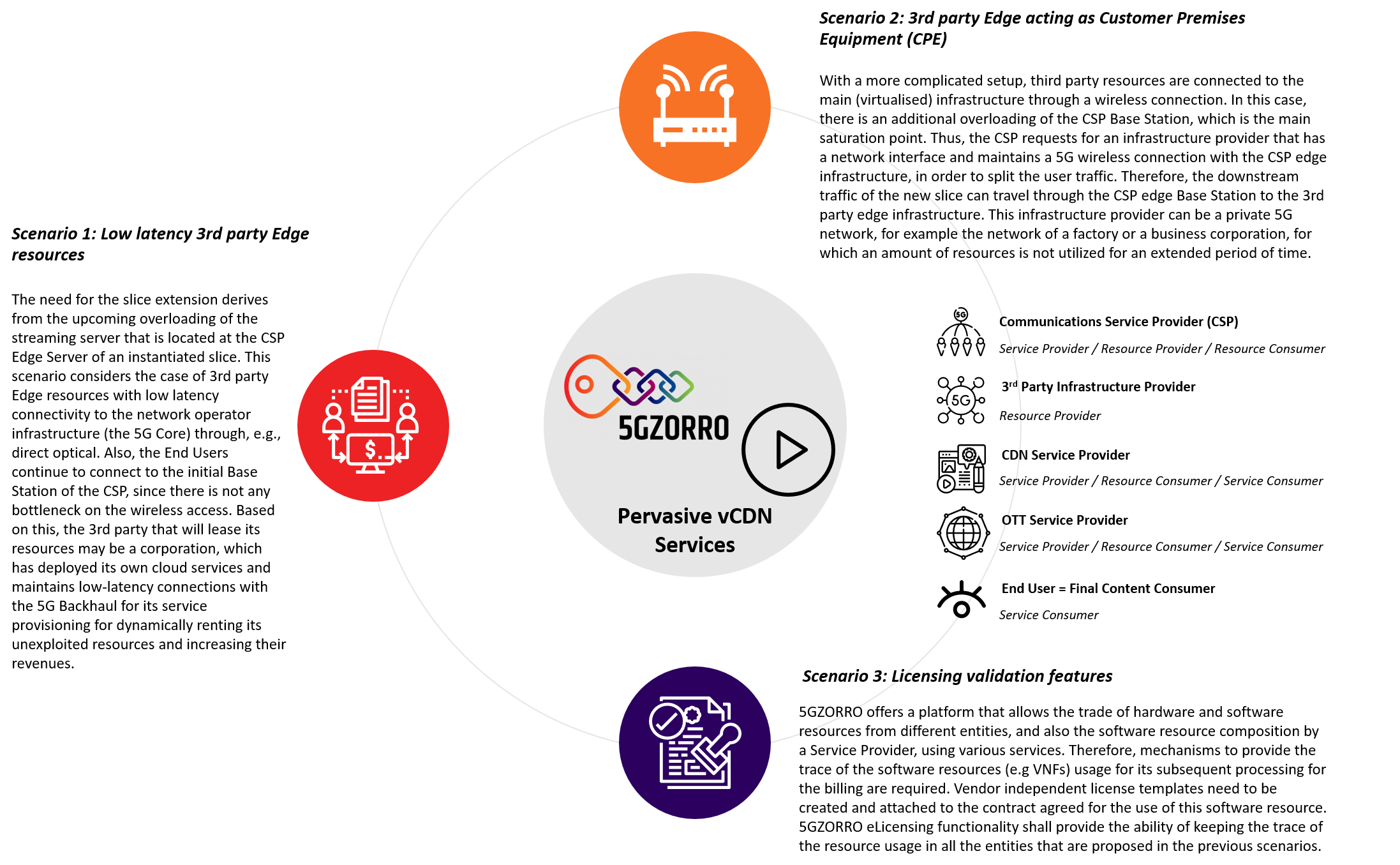 Figure 1: 5GZORRO Scenarios of Pervasive Virtual Content Distribution Network (vCDN) Services
Follow our updates on www.5gzorro.eu.