Authors: Ana María Morales and Fernando Diaz, ATOS
Current 5G Management and Orchestration (MANO) platforms cannot realize the full set of benefits 5G could provide. Existing architectures and solutions do not meet the needs of multi-domain scenarios and heterogeneous ecosystems for support compute, storage, network and spectrum resources from multiple operators while introducing intelligent automation mechanisms to deal with the complexity of network operations and the increasing number of resources to be managed in network virtualisation environments.
In addition, the near future of 5G networks envisions diverse providers across different geographical areas that could collaborate by sharing, leasing, and using heterogeneous sets of resources to provide true on-demand integration of ubiquitous resources in terms of computing, network, and storage transparently through multiple technological and administrative domains.
To tackle these challenges and unleash the benefits of 5G networks, 5GZORRO is developing a zero-touch orchestration platform integrating Artificial Intelligence (AI) to govern the complexity of automation through the identification of usage patterns and cognition into operational data lakes, united with distributed ledger technologies to implement a scalable and secure solution for the interworking and accountability of different actors involved.
But do you know how will 5GZORRO ensures that the architecture, services, and tools developed within the project effectively meet the expectations and needs of potential end-users?
Do not miss this Blog Post series, intended for you to learn the details and motivation of the three use cases that have been defined to validate 5GZORRO results:
Smart Contracts for Ubiquitous Computing/Connectivity
 It covers mechanisms for the implementation of DLT-anchored Smart Contracts and Oracles with the objective of enabling decentralized trust for multi-party interactions and SLA management.
Dynamic spectrum allocation
It envisions Blockchain-enabled spectrum markets, where shared spectrum right holders can trade and lease spectrum rights for a given area and time, enhancing spectrum efficiency while maintaining the QoS at the required level.
Pervasive virtual Content Distribution Network Services (vCDN)
It covers the capacity for delivering scalable, pervasive vCDN services including HQ video streaming (live and/or VoD), in situations with significant variations in the context of flash crowd scenarios e.g., video sharing in stadiums or demonstrations, or sharing breaking news live feed, based on the concepts described in previous use cases.
---
5GZORRO Use Case: Smart Contracts for Ubiquitous Computing/Connectivity
Enabling decentralised trust for multi-party interactions and SLA management in trading of computing resources across edge and core parts of the network
Smart Contracts have become more common as a fast and efficient alternative from the traditional offline commercial and legal contractual document in all sectors. Particularly, the Telecom Sector could exploit multiple financial and non-financial benefits by using Smart Contracts to initiative and manage bilateral and multilateral stakeholder relationships with sufficient flexibility and adaptability.
Deploying Distributed Ledger Technologies (DLT) solutions, including smart contracts, enable business automation, transparency, trust in trust-less environments, the immutability of transactional information, and the establishment of commercial relationships between unknown and untrusted third-party market participants requiring zero-touch and trust instantiation of commercial contracts ad hoc.
5GZORRO is designing, building, and implementing Smart Contract oracles and libraries to facilitate multiparty resource discovery and allocation processes throughout the 5GZORRO platform. Through a decentralised catalogue, providers and consumers would have access to:
5GZORRO Resources: all kind of assets comprising the communications' infrastructure (computing, storage and networking capabilities including Virtual Network Functions)

5GZORRO Services: communication services offered to end-user customers that are built on top of 5GZORRO Resources.
The 5GZORRO Catalogue is primarily focused on Resource product offers. However, in specific situations where it is also possible to tokenise resources from end-users (e.g. residential 5G routers) it is easier and more efficient to have a single catalogue where end-customers simultaneously manage 5G Services consumption and 5G Resources offers.
Also, depending on the market segments and verticals to be addressed it is foreseen to have more than one type of 5GZORRO catalogue, each holding different types of services and resources. For example, one catalogue type targeting end-users holding its third-party resources and one catalogue type targeting Service Providers holding carrier-grade resources.
In this use case, 5GZORRO implements native Distributed Ledger Technologies (DLT) environment with Smart Contract functionalities for trust-less interactions between multiple parties, in contrast to existing systems and processes that only allow trusted interactions between two parties at any given time. In addition to enabling decentralized trust for multi-party interactions and SLA management, the implementation of DLT-anchored smart contracts in 5GZORRO will also allow the implementation of oracles.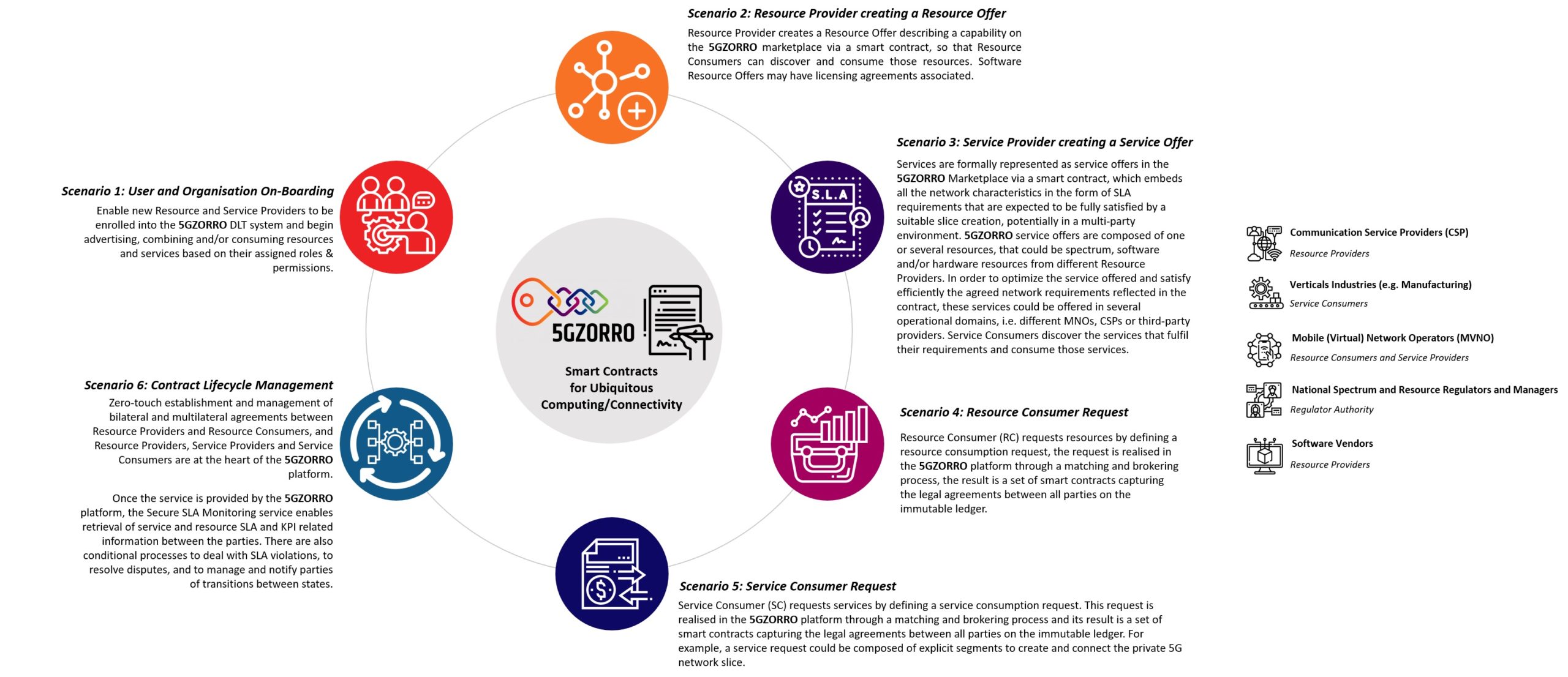 Figure 1: 5GZORRO Scenarios of Smart Contracts for Ubiquitous Computing/Connectivity 
These oracles are agents that find and verify real-world occurrences and submit this information to a distributed ledger to be used by the 5GZORRO smart contracts. Oracles provide external data and trigger smart contract executions when predefined conditions are met. Due to the relevance of data contained in the oracle and the actions they trigger; it is essential to provide a trustworthy and secure environment to enable smart contracts execution and oracle information management without compromising their integrity.
5GZORRO leverages the tokenization of assets concept, enabled by DLTs based Smart Contracts, to support trading operations with specific SLA required. Hence, two or more 5GZORRO stakeholders will be able to trade, set-up and operate a new technical/commercial relationship via a Smart Contract for 3rd-party resource leasing with SLA associated with the operation.
This level of automation, coupled with the decentralized trust interactions, will result in 5GZORRO zero-touch multi-party interactions among all parties required to provide a seamless and ubiquitous computing and connectivity service and experience to the end-users.
Whilst one of the main goals of 5GZORRO is infrastructural resource sharing in a zero-touch environment, as analysed in this use case, Smart contract/DLT implementations are envisioned to be ubiquitously applicable throughout the industry, horizontally and vertically speaking, providing different types of benefits to multiple stakeholders such as Communication Service Providers, Mobile (Virtual) Network Operators (MVNO), National Spectrum and Resource Regulators and Managers.
Follow our updates on www.5gzorro.eu.